CUSTOMER FEEDBACK
Wimaladharma obviously has a legacy of selling watches in SL. The seamless online shopping experience was amazing and the customer support received until the watch was delivered was splendid!! kudos to the customer success team!

Shehan Marino Perera
A really helpful place if looking for a good watch. Really trust worthy and responsible.. Delivered the product safely and on time. Completely satisfied with the product and their service.

Shehara Gordon
Highly recommend this online store to purchase best quality wrist watches. They have a good delivery service and delivered my item within a reasonable time too. 👍👍 Thanks for the great service 

Sanjeewa Thilanka Bandara
This was an excellent shopping experience for me. I wanted to buy a couple of watches whilst overseas, and have them shipped within Sri Lanka. The website was easy to navigate and very professional, I could contact very easily and have all my questions answered promptly. The presents were delivered the same day I ordered them, and they even included a small personalised message. Will definitely use this again.

Govindi Deerasinghe
I dnt write reviews much but i need to recommend this place to anyone who are willing to buy a watch. U can expect a good service with a vast collection of quality and branded watches. I personally own two watches from them and there are doing fine

Isuru Jayasinghe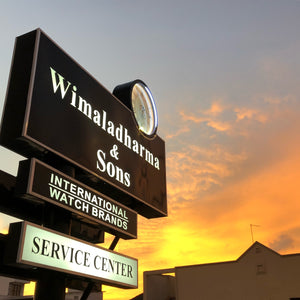 Trusted time keeper - Since 1939
Wimaladharma & Sons is a retail venture dealing in watches operating in Sri Lanka since 1939, with a reputation of credibility and reliability.

Wimaladharma & Sons is a local name for customers seeking genuine timepieces of varying description, specializing in Swiss, Japanese & designer timepieces.

While watches are the main focus of Wimaladharma & Sons, it also offers a wide range of products including Grandfather clocks, wall clocks, winding clocks and Gramophones.
Consisting of more than 30 international watch brands Wimaladharma & Sons provides the best aftersales service and repairs with experienced watch technicians.
With the expansion of the market opportunities after 2010, the requirement for prestigious Swiss branded watches have increased in proportion to standard of living of the middle and elite economic class. With the trust and confidence that the market has placed on Wimaladharma & Sons there is demand for more Swiss prestigious branded watches from our venture.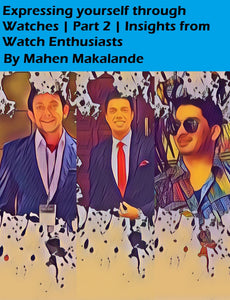 Expressing yourself through Watches | Part 2 | Insights from Watch Enthusiasts
Now, since I promised you a part 2 way more interesting than part 1. I got an additional contributor to this article- Geshan Wimaladharma. He is attached to one of the leading watch stores in Srilanka; Wimaladarma & Sons.The interesting part about this is that I got to know him due to my weekly visits to one of the stores so I could enjoy glancing through new arrivals. I have bought multiple watches from this store and restored my late grandfather's watch too.
Here are some more insights especially for you!

Impress yourself
An interesting insight Geshan shared with me was that he'd select a watch not by looking at the brand, but by how unique it is in its styling. Now for those of you who think, "bigger the brand, the better it is", if you personally don't like how the watch looks or the general designs offered by the brand you deem "the best", then we suggest that it is not the watch you should buy.
Remember that you need to feel satisfied with your purchase. The goal is to impress yourself and not others. Once you get into this mindset you will be positioned to make a rational choice within your budget which will ultimately make YOU happier in the long run.  Another insight is that, you should focus on obtaining the most functional watch (s) considering your profession and other interests. For example, you may be an outdoor person engaging in a lot of physically challenging activities, or you may spend most of your time in the boardroom or both or any other combination of activities! So it is important to select a masterpiece that suits your activities. You really don't want to wear a luxury designer watch when you go hiking right? It would be a safer bet to use a sports watch with a rubber strap and a timer (even a basic digital watch). If you're running also you might want to consider a watch that is functional and helps synch your health-related data to an external app to make the most of your investment and efforts!
Swiss Premium